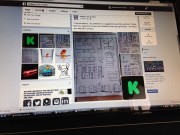 The group re-opening Tacoma's iconic 1933 tavern in Pt Defiance has turned to the local community' using social media to' map out its future. The Defiant Goldfish is letting them choose everything from the new name and layout of the barstools, to wh
Tacoma, WA, November 13, 2014 (Newswire.com) - The Defiant Goldfish Facebook page was launched October 6th. When the new owners announced the name change to Defiance pub and bistro a couple days later, the crowd went wild. The local community and generations of The Goldfish Tavern customers made it very clear that removing "Goldfish" from the name, was unacceptable. After almost a week, and hundreds of messages postings and comments, they put it up for a vote on Facebook and Twitter. It didn't take much time before they re-changed the name to the Defiant Goldfish.
They followed that up by posting a picture of the first logo design they had come up with from a designer on Fiverr. The response was sudden and very vocal. It too, did not meet the expectations of the public. Fortunately for everyone, a graphic designer with decades of experience also had input for the team. They got a comment on their Facebook post saying "Oh no Adam! I will do your logo and we can work out payment later" from Greg Simanson, of Simanson Design, who they have now partnered with. He followed that up by submitting 18 different logo options which were promptly put up on Facebook asking for the publics feedback. "It did not take very long at all before we had a clear winner" said Adam Dopps, the partner leading the project, "as well as a couple of tweaks to make it perfect".
"If the people that are going to be paying our wages have a request or suggestion, it just makes sense to listen. We are just taking it a step further by trying to engage them in all aspects of our planning."

Adam Dopps, Owner
Getting input from the future customers of the bar & bistro made sense, so they started asking for input more often. "We now know that people care more about the comfort of the bar stools than the look" said Corey Webb, the partner that will run the back of the house at the Defiant Goldfish. "We have input on everything from a quote that needs to be framed and added to the wall, to what we should say in our first press release. When we announced we would be shooting a video for our Kickstarter Fundraising Campaign, we received input from Facebook followers on what to say, what approach to take, and what people should be able to see in the backdrop. Now we ask them about EVERYTHING."
"This is going to be a community place to gather for THEM, not us." said Dopps. "If the people that are going to be paying our wages have a request or suggestion, it just makes sense to listen. We are just taking it a step further by trying to engage them in all aspects of our planning. They will help choose the beer selection, menu items, top shelf liquors, paint colors, and even if we should add a urinal to the women's restroom and make both restrooms available to everyone so there are no lines."
The only question that is unanswered so far is: Will this ever get a chance to actually happen. The owners of the project had to move their plans up by several months when they were notified that the ability to keep the building operating as a tavern was going to expire very soon, and it would revert back to residential zoning. That would not allow for a bar or restaurant to open there ever again. Adam said this, about the change in timetable and the overwhelming amount of input from the Tacoma residents, and community in general; "We have invited them into our business by asking them to vote with their idea's and opinions. Now we need them to vote with their dollars. Not only do they control what type of place it is going to be, but they are in charge of whether it will become a tavern again at all. This is true capitalism" he said, "They get to choose IF it happens. If they want it to re-open, they will hopefully contribute to the fundraiser. If they don't, well, I guess this was a neighborhood watering hole whose time has run out."
The owners are raising funds for the rehabilitation of the 1933 building and the opening of the business. They need to raise a minimum of $22,000 by December 5th. You can vote for the Defiant Goldfish to open by making a contribution at Kickstarter.com .
Share: