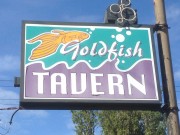 Tacoma's iconic tavern and local landmark, The Gold Fish Tavern. It is in desperate need of restoration to open as The Defiant Goldfish in early February, or it will lose it's ability to stay a neighborhood gathering place forever.
Tacoma, WA, November 5, 2014 (Newswire.com) - In early September, the City of Tacoma let the team that was looking into the purchase of the Goldfish Tavern know that the building was very close to losing it's non-conforming use status, and would no longer be able to open as a tavern if it did not happen very soon. That information caused them to change their plans from "sometime in the spring" to "we have to get this done now", or it would be lost forever. Business partners Corey Webb and Adam Dopps are launching a Kickstarter campaign to raise $22K in 35 days to restore and re-open the iconic tavern that had been in business since 1933, until is closed on Halloween two years ago.
The Defiant Goldfish is set to open in early February. It will be a family friendly, bistro style restaurant and bar, with a focus on the seven Tacoma area Craft Breweries and the many Craft Distilleries popping up throughout the state. It was a Tavern before, which meant "no minors". It is re-opening as a restaurant with a full liquor bar, so it will be able to allow families with children in to the restaurant up until 7 pm. "We are planning to have a specialty cocktail menu that is as delicious as it is unique" said Adam Dopps. "On the food side, we will be sourcing our produce and fruit locally and will buy as many of our ingredients locally as possible. Our menu will global, but our shopping will be done locally."
"We are planning to have a specialty cocktail menu that is as delicious as it is unique"

Adam Dopps, Owner of the Defiant Goldfish
After nearly 80 years of providing the citizens of North Tacoma, Point Defiance and Ruston a place to gather and enjoy a pint, this local landmark has sustained serious structural damage, which if unattended will be irreversible. We need to raise $22K on Kickstarter to get the work done now. The stucco exterior has weeds and moss growing out of the multiple cracks in it. The roof is leaking and has a river of water running through the outdated electrical panel and needs to be fixed, as well as replacing the outdated electrical service. The concrete floors have been added at different times over the decades and are uneven and need to be ground down and leveled. It also has a 2 foot hole in the middle of the dining room, which is still a mystery as to why. The walk-in cooler is no longer in code and needs to be replaced. Not to mention it sits where the new kitchen is going to be located. The list of needs also includes the equipment, tables, chairs, barstools and décor.
The Goldfish Tavern had a loyal following from the folks of N. Tacoma, Vashon Island and all of the people from throughout the region that came on a Ferry ride, or to visit the Pt. Defiance Zoo and Park. It left a hole in the landscape when it closed it's doors. To many living in the North Tacoma, Ruston and Pt. Defiance area, the enigmatic Goldfish Tavern is a much-loved relic of our living past, a local treasure, and part of our history.
This project will only be funded if we raise all of the $22K by Friday, December 5th, 12:00 pm PST. Find us by going to the KICKSTARTER website and typing "Goldfish Tavern" into the search box. Consider donating as little as $10 to help us keep this vestige of The City's past from fading away like old photographs.
Share: